Frequently Asked Questions
How do I get from the airport to Casa Isabel?
There are many options.  
-Take a taxi for about US$30 to get to the Los Muertos Pier. This is where the PV-Yelapa water taxis leave. 
-To save some money, leave the airport, take the overpass over the highway and take a city taxi for cheaper.  Or, take a city bus to old town for $8 pesos.  
For larger groups arriving together, Sergio can arrange to meet and pick you up at the airport in his van and deliver you to the pier.  
-Take a cab or bus to Boca De Tomatlan, a small port south of Puerto Vallarta for other water taxis to Yelapa.  
-Charter a private boat to bring you to Yelapa. Please inquire for more information. 
All of the captains will drop you at our beach, except rarely when the sea is rough.  Our workers will help with bags up to your casa. 
My plane gets in at such an such a time. Will I make the last water taxi?
Full water taxi information is under the Arriving Gracefully tab.
Booking a flight with an arrival time no later than 3:45 is the best bet to catch the last water taxi out of Los Muertos Pier. 
There´s always the alternative of a taxi/bus to Boca, a small port south of Puerto Vallarta where the last water taxi leaves at 6:30 PM.
If you have a flight that is arriving late, you can either stay a night in PV or inquire about having a private boat to pick you up. 
How far is Casa Isabel from Yelapa? From the beach?
A 5 minute power walk or a 10 – 15 minute lollygag will put you in the heart of town by the church and grocery stores.  The main beach is 20 or 30 minutes away.
Is there a safe place for my valuables in my rental?
For your peace of mind, all the houses have secure lock boxes built in.
How far is Casa Isabel from good swimming?
We are immediately above Playa Isabel, an excellent swimming beach for all ages.
Do you have mask, snorkel and fins?
We have a variety of Kayaks and Paddleboards. Please inquire with your host about current availability.
Do you take credit cards?
We do not.  Our main payment method is Paypal.
Do you provide breakfast?
Smoothies, Juice and Coffee can be purchased on site. If you wish to have meals catered, a wonderful local cook can be arranged to come provide delicious meals based on your preferences. 
What do groceries and dining cost?
Yelapa is far more economical than more northerly latitudes, and taco stands provide delicious and most economical local food.  A large selection of great local restaurants means a family of 4 can easily dine without booze for 500 pesos, or a couple of days with of groceries for that amount.  Many budget travelers eat simply and inexpensively like the locals.  Breakfast, lunch or dinner can all be had from 100-250 pesos.  However, as everyone knows, we can often spend more.  Beer is 20 pesos in stores and mixed drinks are 60-120 pesos at restaurants.
What food is available in Yelapa?
Jalisco and Nayarit have rich fisheries and agriculture, and their delicious fresh products are abundant in restaurants and grocery stores here in the main season.  The produce displays in Letitia´s store are fresh and beautiful.
Fresh fish and shrimp are almost always on restaurant menus.  Stores usually have shrimp and often have fish.  Regional chicken is fantastic as well.
You can have your fridge stocked before you arrive. Check out this service by Carolyn!  http://www.yelapaconnexion.com/
How do you secure a reservation at Casa Isabel?
We send a Paypal invoice for half the rental deposit plus taxes.  Your reservation is only secure when the deposit is paid.  The balance is due on arrival.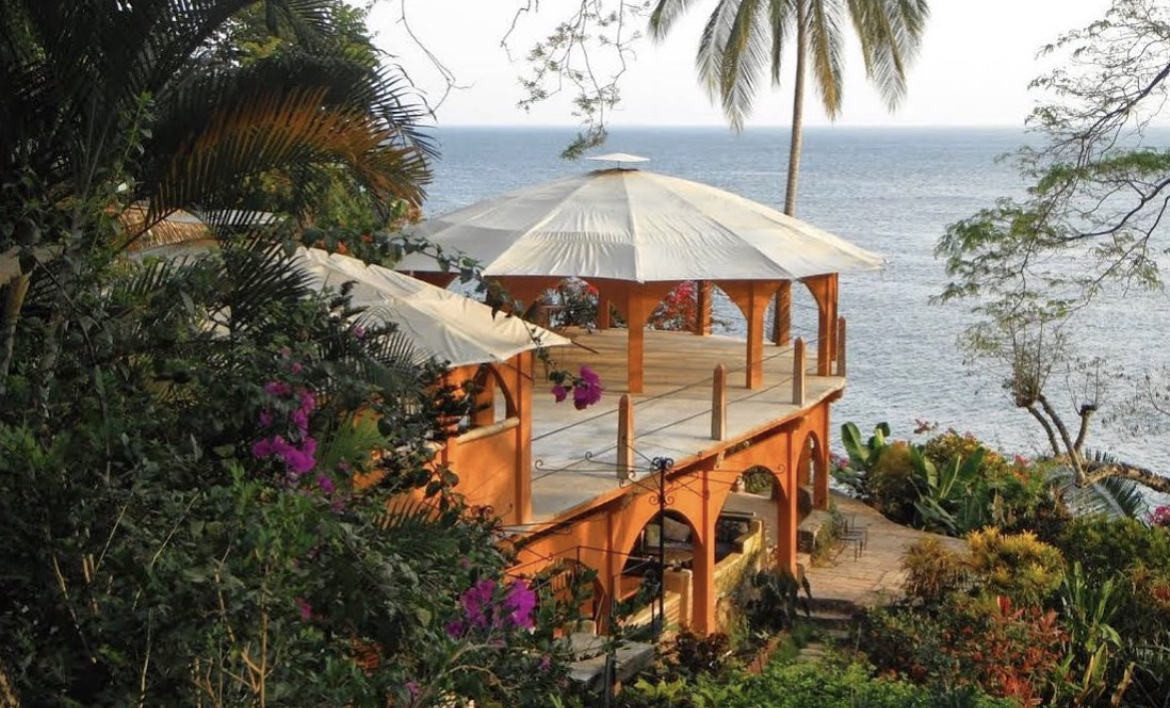 welcome to the jungle
We Have Vacancy!
Come fill up your senses and remember: Man is the Heart and Mind of the interaction between Heaven and Earth.