Blessed Beyond Belief
Casa Isabel
A peaceful retreat for the enjoyment of nature and rejuvenation of the human spirit…
Casa Isabel offers a variety of unique ocean-view accommodations, their privacy insured by lush shrubs and flowering vines planted a long time ago.  It has been fully, sustainably, and artfully reconstructed in 2009. Huge trees form a jungle canopy over an enchanting garden hillside…

Casa Isabel enjoys a geographic conspiracy of many high-grade features.  If Yelapa is delightful, the Point is all the more so. 
Ancestral memory sings "YES¨ walking a trail to a cozy nest. Say hello to a quiet embrace in the bosom of mother nature.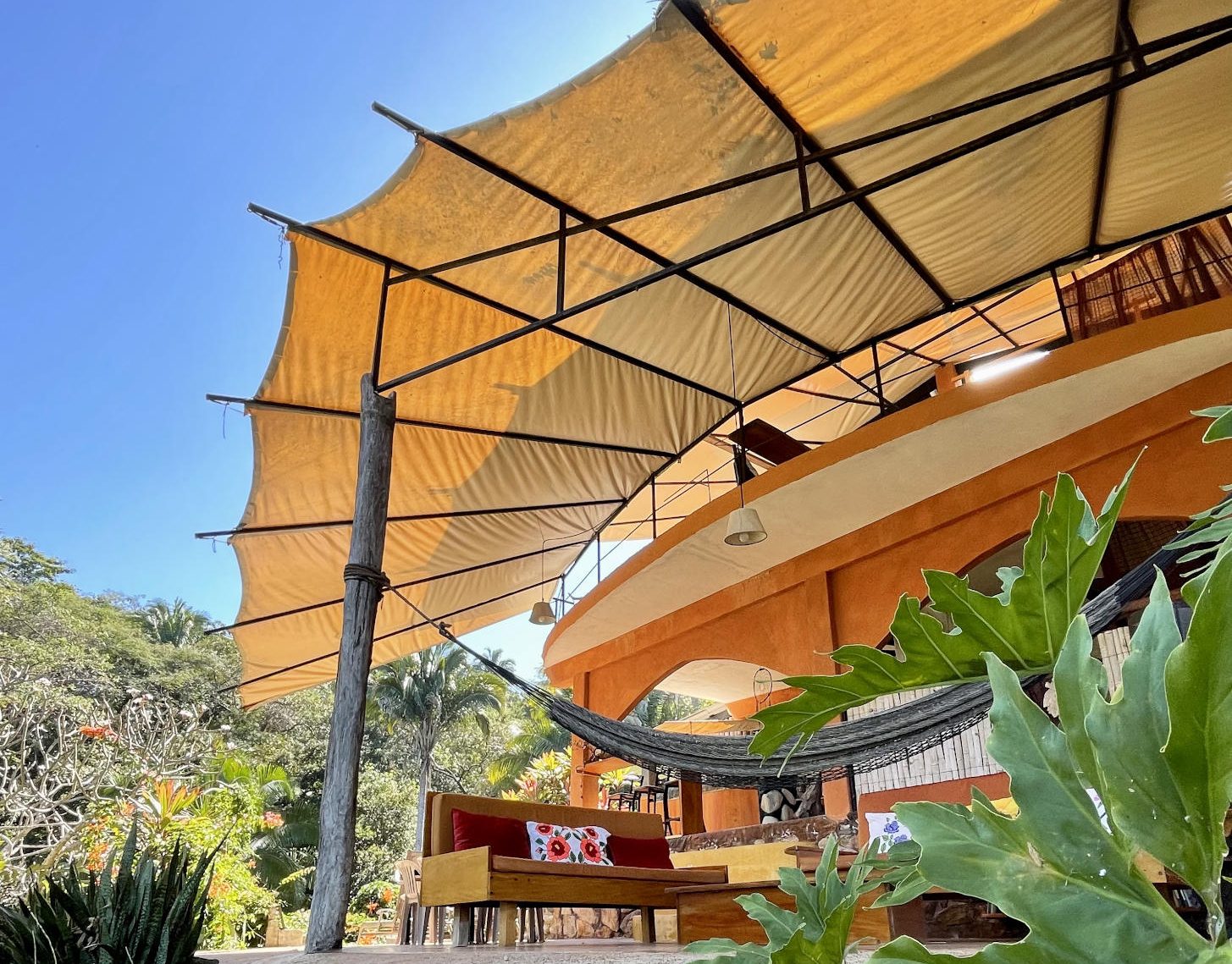 Jade
Our biggest casa, sleeping up to seven. Jade is perched on the ridge above the creek- enjoy canyon and waterfall views!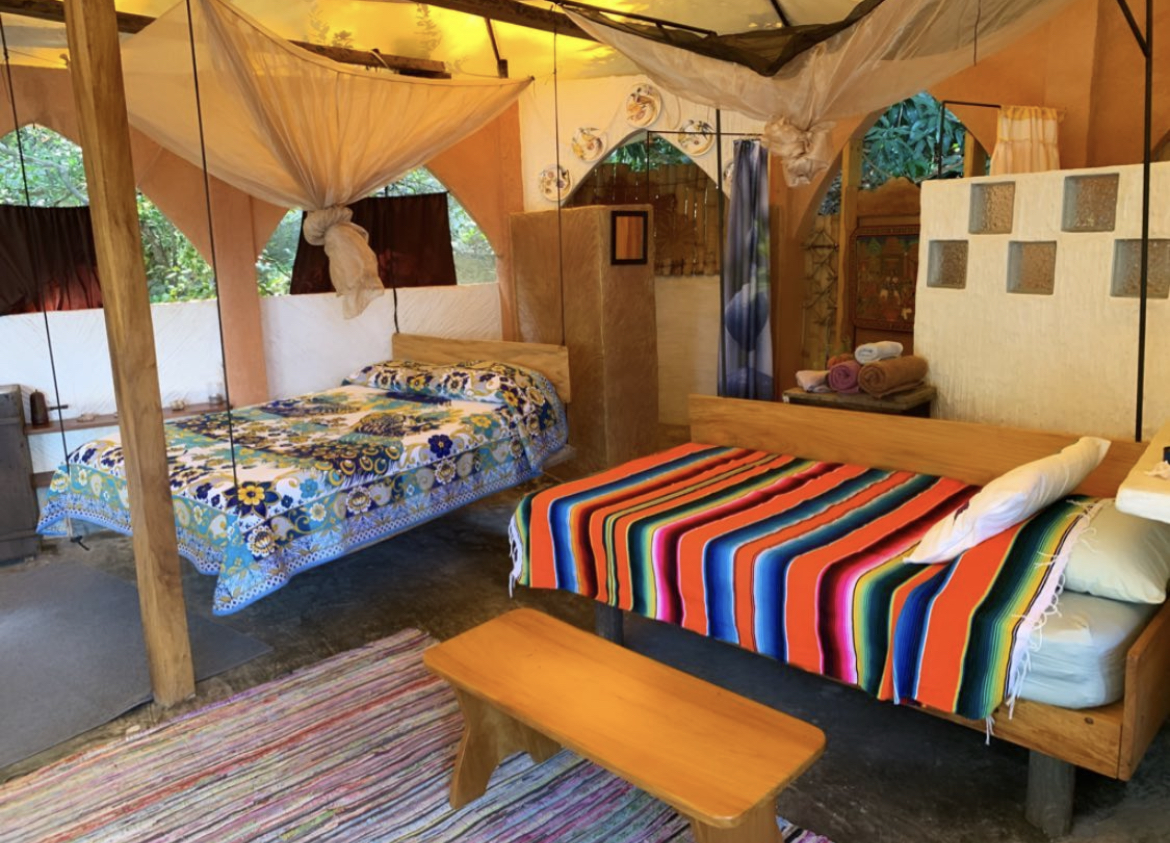 Penthouse
Wake up with the view of our giant huanaxtle tree. Enjoy breathtaking views from your casita. Sleeps up to three.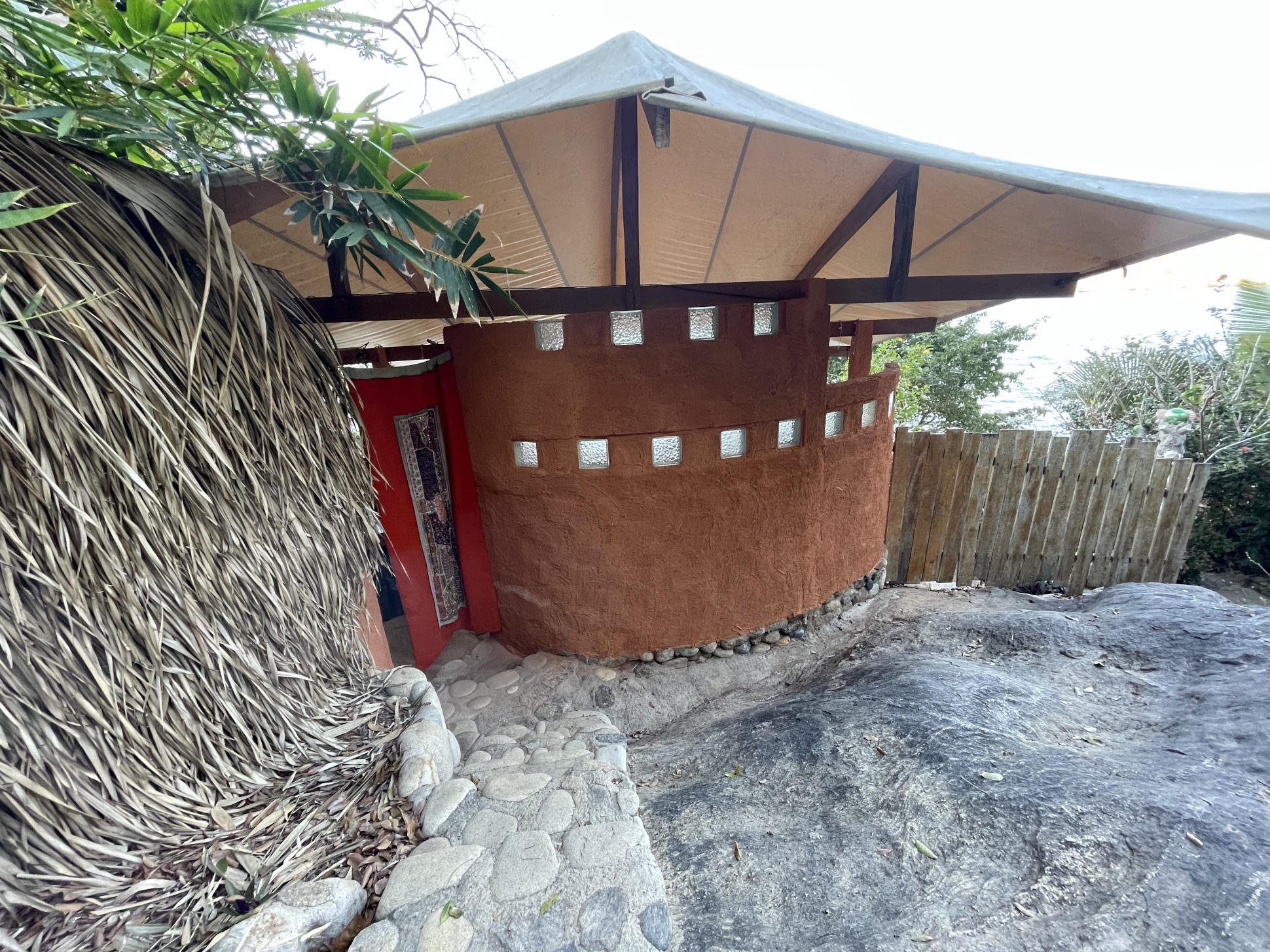 Beach house
Located directly above playa isabel, let yourself be rocked to sleep with the sound of the waves. Sleeps two.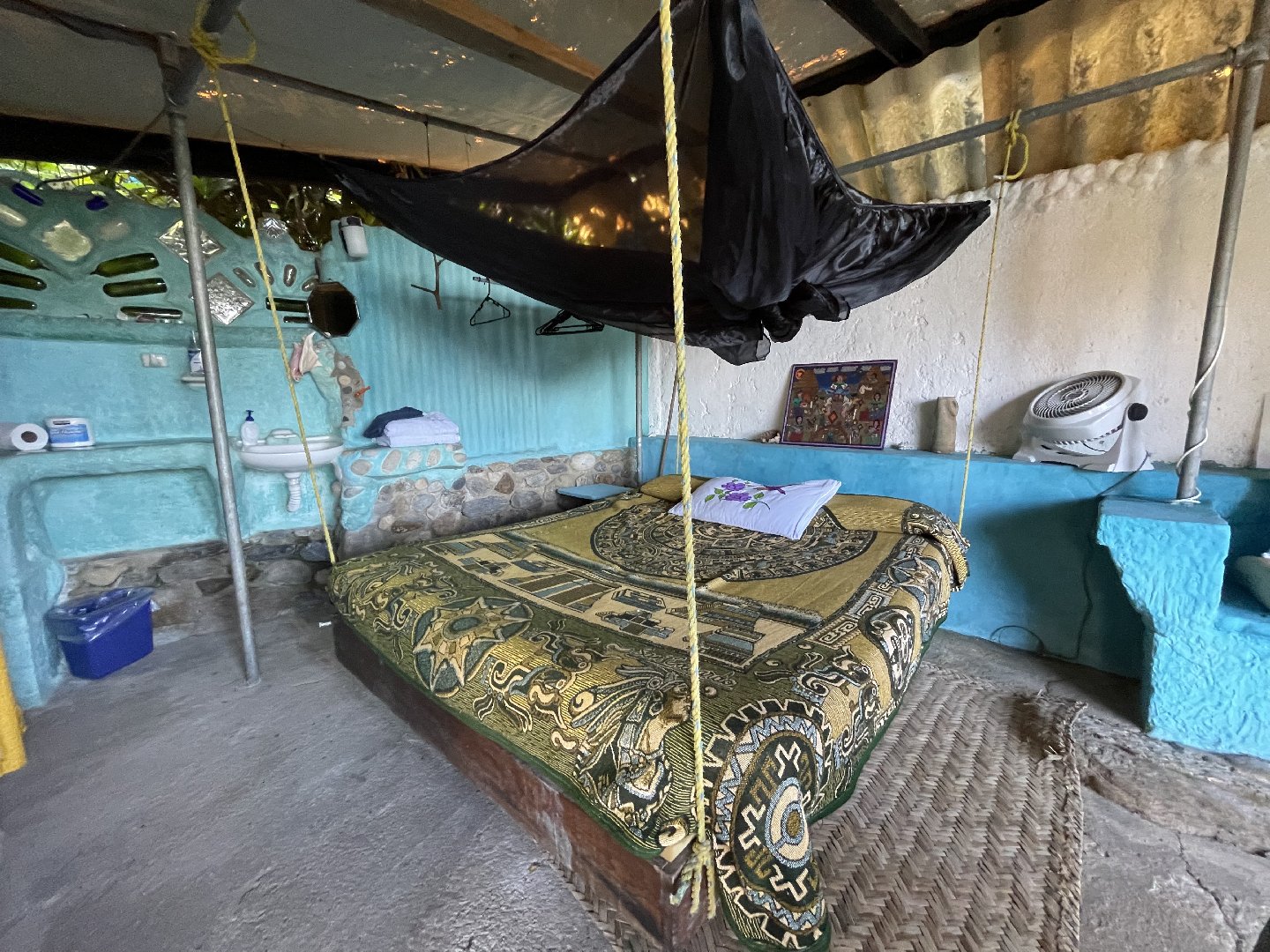 Passion Palace
Enjoy sweet dreams in a hanging double bed under the soothing vibes of a passion fruit vine.  Look out past a lawn and the fire circle to the sparkling sea where you swim.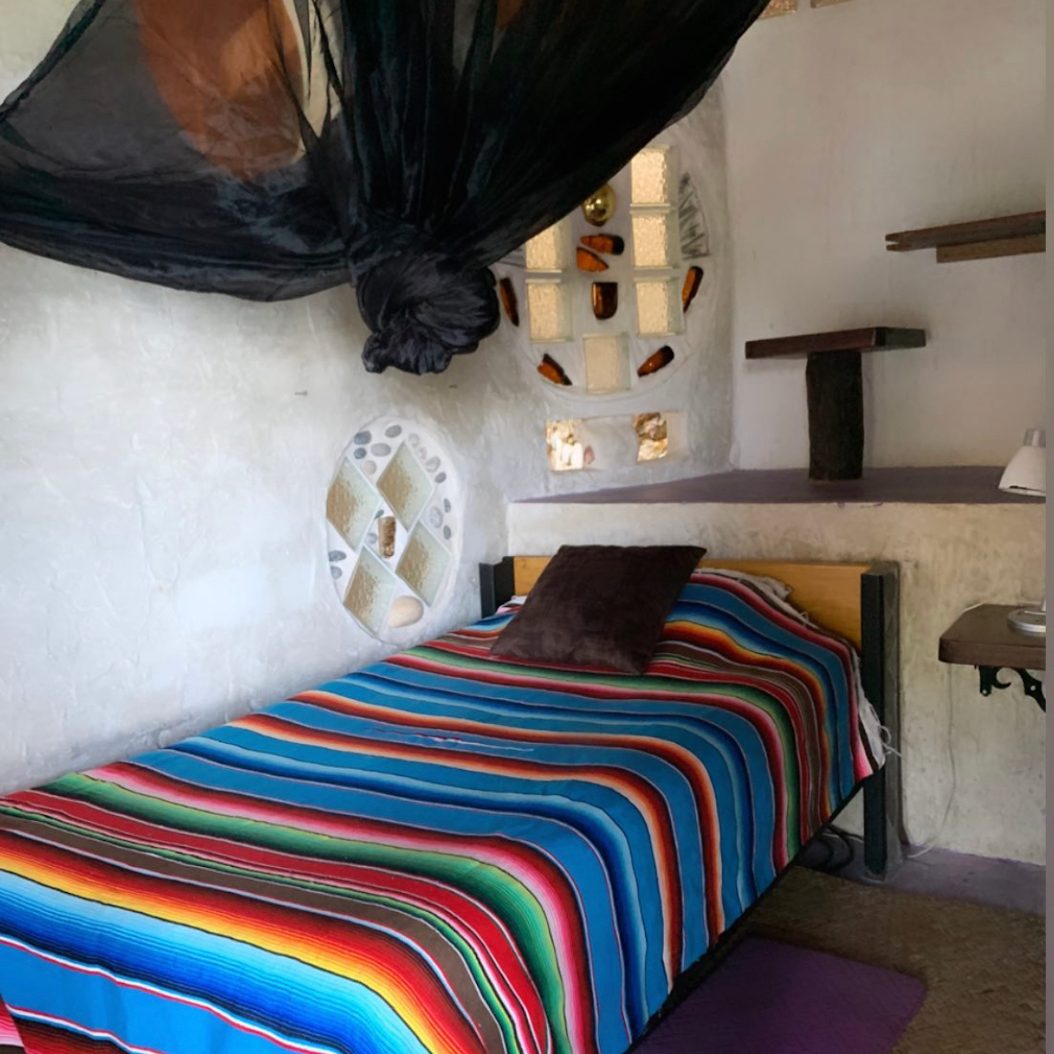 Nook
The nook is a little room with a high ceiling and everything a single needs.  The Nook has a single bed (non-hanging), shares the Casa Central shower and bathroom, and is our most economical offering here in the high-rent district.
relax and enjoy..
Amenities & Services
Sustainable, artful construction
Hammocks and lounge chairs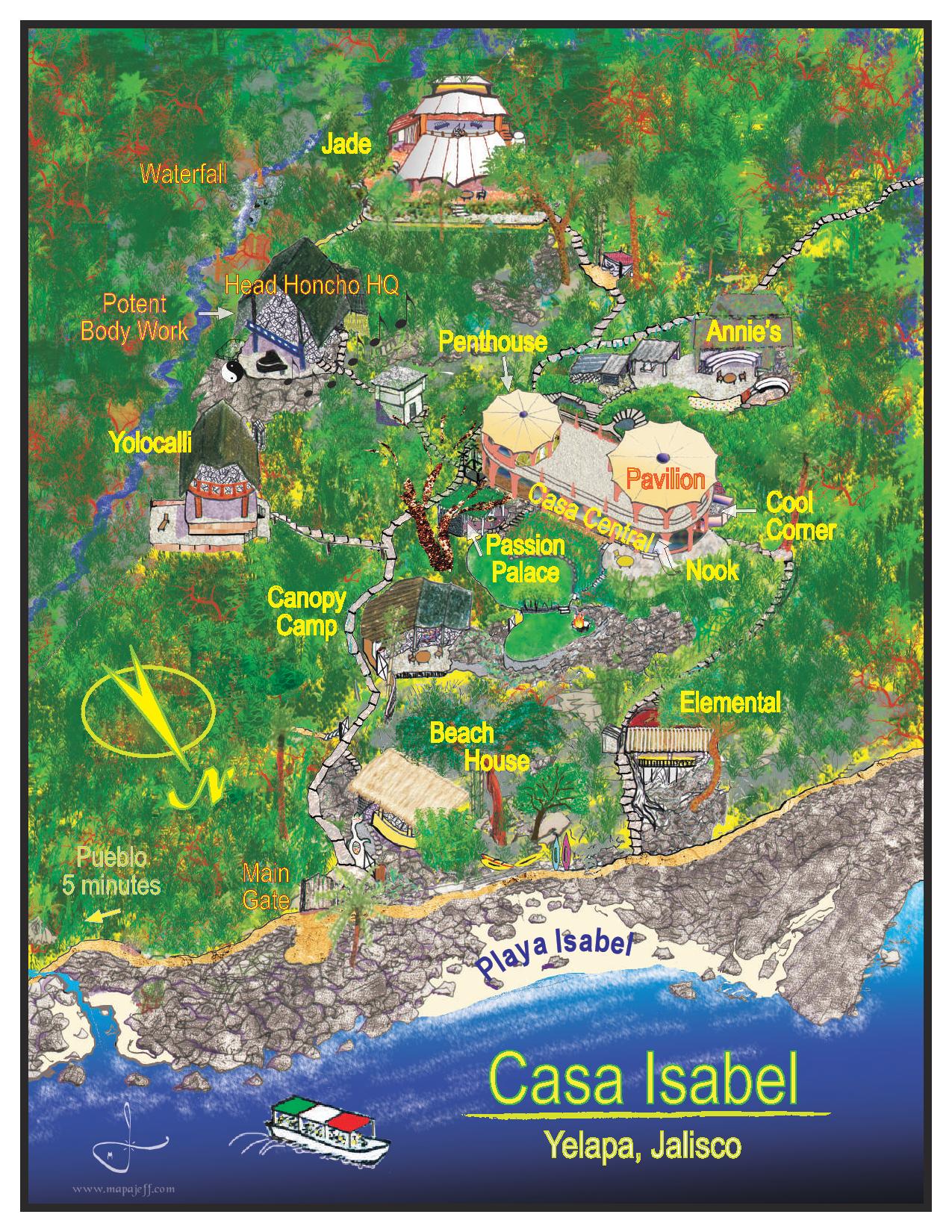 Casa Isabel  Yelapa
Guest Reviews
"Starlight, lingering long with the clouds- hummingbird and morning butterflies- with fresh lime on everything! We'd love to return some day. Enjoy and savor this rare vintage at Casa Isabel!"
""Such a magical place to stay in Yelapa! Mesa & Beverly were amazing hosts. Stayed here for a yoga retreat, it was perfect. Butterflies, birds singing, you can hear the ocean from any room. We stayed in Canopy Camp. Comfortable bed, everything you need in your room, a hammock to enjoy the view. Every detail was considered when they built Casa Isabel. Make sure to get a massage from Beverly! I can go on and on about how wonderful our stay was here. Can't wait to return!"
"Amazingly beautiful as always. So much to see and do here. The nearby town is amazing. Multiple waterfalls to see. Casa Isabel has so many neat room offerings from a 3 bedroom house to nooks and other houses up the hillside. As well as ample showers and toilets and solar heated hot water to boot. There were paddleboards to rent this time, yoga, energy work and more. The night sky was amazing!"
"Gorgeous Location right on the beach. Open concept living with separate little bungalows. 2 waterfalls nearby, depending on how much of a hike you want. Many food options in the small town of Yelapa, just a short walk away."
welcome to the jungle
We Have Vacancy!
Come fill up your senses and remember: Man is the Heart and Mind of the interaction between Heaven and Earth.